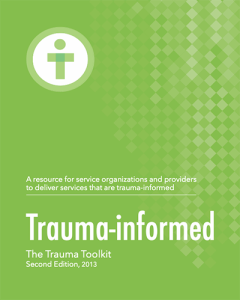 The Trauma-Informed Toolkit (PDF) is resource for service organizations and providers to deliver services that are trauma-informed.
This toolkit was developed by MTIEC and aims to provide knowledge to service providers working with adults who have experienced or been affected by trauma. It will also help service providers and organizations to work from a trauma-informed perspective and develop trauma-informed relationships that cultivate safety, trust and compassion.
---
Suggested Readings:
From foundational texts to practical guides, these readings offer insights and strategies for understanding and addressing the impact of trauma on individuals and communities. Explore this comprehensive list of recommended reading materials to help integrate trauma-informed practices into your work or recovery. 
Websites:
Whether you're looking for the latest research on trauma or seeking extra support for your recovery, these websites offer valuable information and resources. Learn more with this diverse range of websites related to trauma-informed practice and recovery, including research institutions, advocacy organizations, and training programs. 
Crisis/Distress Lines:
From suicide prevention to intimate partner violence, these help lines provide confidential and compassionate assistance to those in need. This page provides a list of crisis and distress lines that offer support to individuals experiencing emotional distress, a mental health crisis, or for anyone who needs some extra support.